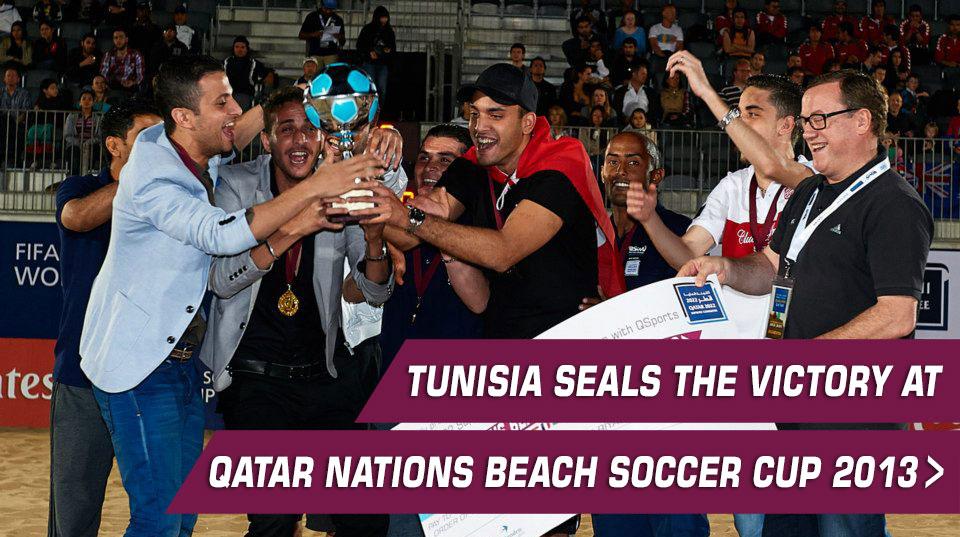 The Qatar Nations Beach Soccer Cup 2013 was an exciting initiative brought to Qatar by QSports Leagues in association with the Qatar 2022 Supreme Committee.

The tournament was designed to showcase the excitement and fast paced thrills of beach soccer to the residents of Qatar by allowing local communities to both represent and support their national feams in a beach soccer extravaganza.
In addition to dazzling the fans with the fast and furious pace of beach soccer, the event celebrated the cultural diversity of Qatar – bringing different cultures and communities together to watch and play an alternative version of the 'beautiful game'.


QSports in partnership with Qatar 2022 Supreme Committee is pleased to bring you the most exciting Beach Soccer tournament in Qatar. As part of the 2013 FIFA Beach Soccer World Cup - AFC Qualifiers taking place in Doha between January 22 - 26, 2013, QSports will be hosting the Qatar Nations Beach Soccer Cup starting on January 11, 2013. Soccer Cup starting on January 11, 2013.
The tournament is open to any Qatar-based community team who can demonstrate community support for their team. Teams must have at least 50 supporters as spectators during their games. There is no fee to participate in the tournament.
Prizes
1st Place - QR 12,000 (Medals + Trophy)
2nd Place - QR 8,000 (Medals)
3rd Place - QR 5,000 (Medals)
Venues & Contact
Group stages - Al Gharafa Sports Club
Quarterfinals - Al Gharafa Sports Club
Semifinals and Finals - Katara Beach
For more information:
Call: (+974) - 44642512
Helpline: (+974) - 33460439